---
 SLIDERMAN
Over - Easy Compressor / Limiter "One Fader, More Sound"
Available for  Window 64 bit & Mac (Intel & Silicon) as AU, VST 3 and AAX

---

Audiolounge presents - the Sliderman Compressor
*Audiolounge, nor its products are affiliated with dbx® or their products.
Don't let your creative flow get interrupted by tools with too many knobs and faders. Let intuition win!
The "Sliderman" serves exactly that purpose.
"Sliderman" is probably one of the easiest plugin to use, but with the sound that can compete with the big boys"
Anyone who ever used a 163x, is immediately hooked, since it's so easy to use and has such a cool sound. "Sliderman" is inspired from the original hardware - state of the art as originally developed by DBX in 1986.
"Sliderman" sounds great on snares, drum rooms, overheads, bass, piano and acoustic guitar.
Your imagination is the limit.
If you feel like you wanna add a little extra flavor to the sound, you can engage the "edge" switch, which introduces some light harmonic distortion to the sound. This works especially well, if u need to shave off some of the transients on your snare.

Don't waste time, start mixing - download your copy here

"Sliderman is sold via our partner hitshaper.com"

---
 Sliderman comes with practical controls that allow you to dial-in your desired sounds very quickly.
On/Off

 Bypasses the Plug-In.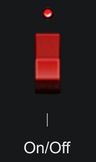 ---
Edge
With edge mode enabled, the front panel color changes to red and saturation is applied to the signal before processing.
Drive the input knob to apply more of this effect and adjust the level with the output knob.

---
More Slider

The this slider is moved to the right, the more compression is applied.
All the following compression parameters are affected dynamically:
Threshold / Ratio /Attack / Release / Gain

---
Sidechain

Sliderman features an internal sidechain which allows you to reduce the impact of low frequencies on compression.
Select from one of the following high pass filters (from left to right):  Off (no sidechain) / 60 Hz / 80 Hz /120 Hz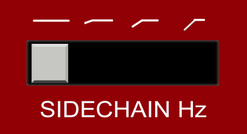 ---
Mix / Input / Output

Allows you to mix the unprocessed and the processed signal for parallel compression.
---------------------------------------------------------------------------------------
Adjust the input level to change compression behaviour, the saturation (in edge mode).
If the more slider is hard-left, you can drive the signal for limiting purposes only. Adjust the signal up to +/- 20db.
-----------------------------------------------------------------------------------------
Adjusts the output signal +/- 20db.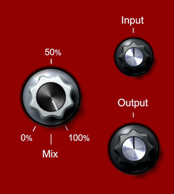 ---
 Sliderman supports sample rates up to 192 kHz. The audio signal is processed as following:

---

---
 Windows 8.1 or later (64bit)
macOS 10.12.6 (Sierra) or later with Intel or Silicon (M1) processors
Any major DAW that supports Audio Units or VST3
ProTools 10.15 or later
One-time activation requires internet connection.

---
Don't waste time, start mixing - download your copy here

"Sliderman is sold via our partner hitshaper.com"

---
---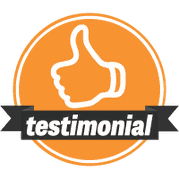 What others are saying about Sliderman:
*
*
---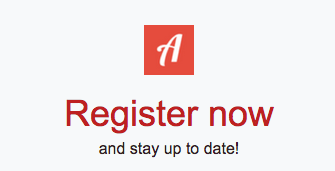 ---